July 21, 2014
Thinking Like a Watershed, Part 3 of a series of panel discussions on the water crisis in the West.
Today's panel features features Sid Goodloe Rancher from El Capitan, New Mexico, Stanley Crawford Author/farmer  from Dixon, and Steve Harris Outfitter and director of the Río Grande Restoration.
These panels are produced and moderated by aural historian and author Jack Loeffler and sponsored by the New Mexico Humanities Council and The Lore of the Land.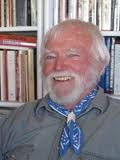 Podcast: Play in new window | Download | Embed
Subscribe: RSS